Techline Communications has been installing high quality voice, data cabling & Fiber Infrastructures for over 25 years.
Most of our clients today require a complete structure cabling system to serve as the foundation for their entire communications network. We install and test all of the following: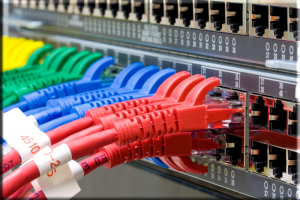 Voice Cabling
Categories 5E and 6 Data Cabling
Fiber Optic Cabling
Overhead music/ Paging System Cabling
CATV
CCTV/ Camera Cabling
Wireless Access Point Cabling
Although it can represent the smallest portion of your initial networking costs, cabling is usually the cause of most telephone and computer network crashes if installed improperly. Techline Communications has found that almost 75% of all network related problems are due to poor cabling installations and component problems. Nothing else in a telecommunications or information technology infrastructure is as strategically important as the cabling. The cabling is the backbone of the network.
Techline Communications services include add moves and changes, upgrades, and new installs.
We use the most up to date test equipment to test and certified your entire network. Our technicians will test every connection. This will ensure that all of our clients will have a network to support today's existing technology and future.
We'd be happy to provide you with a competitive quote on any of your cabling, fiber needs.